Gardening with the Moon in 2013     
DECEMBER 2013
Notes:
(1) Radical Restructuring is a phrase used below to represent the energies of profound change, upheaval and transformation that have been affecting our world and our individual lives for the last several years and will continue to be very strong through 2015. Astrologically, these energies are shown by a square (90 degree angle) between Uranus and Pluto. For more information see Radical Restructuring article.
(2) Astrological aspects are at the end of the December Forecast.
December 1-6 ~ A New Start
December 2:  The New Moon occurs in the optimistic and enthusiastic sign of Sagittarius. Each month the New Moon ushers in a new beginning and brings in new energy for a fresh start. The Sagittarius influence of this New Moon tells us that December will be time to make life more positive and expansive. This particular New Moon will bring a favorable mix of energies representing change, optimism, practicality and action to new endeavors. Projects started now will have the potential to grow and stand the test of time.
It is usually best to wait at least a few hours after the New Moon to allow its influence to strengthen before actually beginning the new project. The New Moon is exact at 5:22 pm, MST, on December 2. That evening would be a good time to think about how we can use these energies in December. Pay attention the morning of December 3. Helpful insights and ideas could occur that will be useful in implementing a new start over the next two days. It doesn't have to be a huge new start. Just think about making life better in some way. (If you are familiar with your own chart, find the house that contains 11 º Sagittarius. The area of your life represented by that house will likely be the recipient of this new start.)
On December 4 and 5 the Moon will be in the practical and business oriented sign of Capricorn, which will be favorable for business dealings, organizing and planning. December 4, in particular, could be a day of significant change, as the Moon adds emphasis to the radical restructuring energies.
Warning: December 6 will not be a good day for practical matters or important decisions. Thinking and communications are likely to be fanciful, unrealistic, doubtful or confusing. Instead, use this imaginative energy for daydreaming, fantasy and creativity.
December 7 ~ A New Sheriff in Town
On December 7, Mars will move from the sign of Virgo into Libra. This is going to be a more important sign change for Mars than usual.
What does Mars represent?
Mars is associated with how energy is used: it can manifest as anger, conflict, accidents, arguments, aggression, power, force, action, courage, strength, daring, passion, sexuality, physical assertion, construction and hard work. It can be used in a destructive way or in a positive way. It can tear down or build up.
What does Mars Rule?
In the outer world, Mars rules the military, law enforcement, warriors, guns, knives, fire, weapons, criminals, militants and activists.
In our individual lives, Mars manifests as our physical activity, energy level, sexual drive, how we express our anger and how we go after what we want in life. Mars is our inner warrior and shows how we respond when under stress or a perceived attack.
As stated above, this sign change will be more important than usual. It takes Mars almost two years to complete one cycle around the Sun, spending about 1 ½ months in a sign. However, every two years it goes through a retrograde cycle and spends almost eight months in one sign. That is what will start on December 7 as Mars moves into Libra, where it will stay for over 7 ½ months (until July 25, 2014). That means the Mars in Libra influence will carry extra significance this time because it will stay in Libra much longer than usual.
When Mars changes signs, there is a general shift in energy. The following analogy may help explain this further:
Each planet has a certain persona, like a role in a play. In the case of Mars, the role is the warrior. The warrior's role is to take action, to defend or to attack, to go after what it wants, to take the initiative and to make things happen.
The sign shows the way a planet will play its role, the "costumes" it will wear, its personality, and how it will portray its role. In this case, how Mars will portray the warrior.
Mars has been in the practical, analytical, earthy, detail-oriented, hardworking and exacting sign of Virgo since October 15. Virgo is also associated with healing and healthcare. Mars in Virgo is a warrior that analyzes, critiques and takes things apart in order to put them back together correctly. Mars in Virgo notices what is wrong and what needs to be fixed. Mars in Virgo warrior is prone to irritation and worry when things are not in order. Kind of like an accountant with a gun.
On December 7, this all changes. Mars will don a new costume as it moves into Libra, the sign of peace, harmony and relationships. This means a new approach and a new look for the warrior. Libra likes to get things done by working with others, by being charming, good natured and cooperative. Libra strives for peace and balance, does not want conflict and avoids it whenever possible. However, Libra has a purpose in mind, and if necessary will take action to make it happen. Libra has been likened to the iron fist in a velvet glove. Think of Roger Moore (a Libra) in his role of James Bond. Just because he's smiling, doesn't mean he won't shoot you if necessary.
Although Mars in Libra will prefer to seek a peaceful solution to problems, there will be some challenging times ahead. That's because Mars in Libra will stir up and increase the action of the ongoing radical restructuring energies. See December 22-31 below.
December 8-14
Keep Your Feet on the Ground and Aim for the Stars
Whatever started just after the New Moon on December 2 could receive a big boost all week with Jupiter making an exact trine to Saturn on December 12. This is not a big flashy influence, but it is one that can bring long-lasting positive results by blending optimism and confidence with practicality and focus.
December 15-21 ~ Shifting Directions
The Full Moon is on December 17 in Gemini, the sign of communication, mental activity and curiosity. This will be a time when creative ideas and big plans initiated at the new moon will blossom. However, there could be a tendency to be impractical or to go overboard. Definitely create and dream at this time, but wait to implement your plans until you come back down to earth in a day or two.
Uranus, the planet of change, surprise and sudden shifts (and one half of the radical restructuring  duo) has been retrograde (moving backwards) since July 17. In December, Uranus will slow down, stop, and then very slowly begin forward motion on December 17, just a few hours after the Full Moon. Because Uranus will barely move in December, its energy is very concentrated and focused all month. Once it starts moving forward, many changes that had been pending will start moving to the next level. You may feel like something BIG is shifting.
On December 21, Venus, planet of love, money, fun and enjoyment goes retrograde (shifts to a backward motion). This will occur while Venus is in the practical and achievement oriented sign of Capricorn. Venus will be retrograde until the end of January 2014. This six week period will be a good time to think about what and who we truly love, value and enjoy in life, and then re-organize our priorities accordingly.
December 22, 2013-Jan 2, 2014 ~ Fireworks
The radical restructuring of change and transformation will be in high gear as 2013 ends and 2014 begins. Hang on because these energies will continue to expand and grow in 2014. A peak in the radical restructuring energies will start around December 22, 2013 and will continue to expand until it reaches a dramatic point in April 2014. It will taper off by the end of June 2014.
From December 22, 2013 to January 2, 2014, Mars, the Sun and Mercury will add their considerable energies to the change and transformation of the radical restructuring energies. Radical restructuring re-enforcements are arriving! Oh my!
First on the scene will be Mars. On December 22 things will begin to heat up and get activated. We will notice this out in the world and in our individual lives. Mars likes to get things started and take action – NOW. Because Mars will go retrograde in 2014, it will continue to move in and out of the radical restructuring action through June 2014. Used in a positive way, this can give us the energy and courage to break through blockages that have been holding us back from making desired changes in our lives.
The energies of change and action will be powerful on December 24-26 as Mars opposes Uranus. This will make for a dynamic and energetic Christmas, but also holds the possibility of over-assertion, accidents, aggression, or explosive energy out in the world or in our personal lives. Drive carefully and avoid risks. Luckily, there will also be a spirit of compassion and caring that could help to soothe the fiery energy of Mars from December 24-27.
From December 29, 2013 through January 2, 2014, conditions will heat up even more, as both Mercury and the Sun join Mars in stirring the pot of change and transformation. Arguments and power struggles could occur and communications could be strained. Avoid coming on too strong and trying to make someone change their mind. Be aware that this energy is affecting everyone to some degree. If you start feeling frazzled, try deep breathing and count to ten. It will help to do something physical to relieve tension in a positive way – take a walk, exercise, dance and sing. Know that everything that is happening around us is part of the path right now. All energies can be used productively when used for the highest and best good.
The New Moon in Capricorn on January 1, 2014 will be very potent. It will powerfully initiate a new phase in the radical restructuring energies.
Wow. Happy New Year….
Thanks for reading.  More next time!
Wishing You Love and Joy this Holiday Season,
Judy Joyce
…….Beyond a wholesome discipline, be gentle with yourself. You are a child of the Universe, no less than the trees and the stars; you have a right to be here. And whether or not it is clear to you, no doubt the universe is unfolding as it should………..
Max Ehrmann, "Desiderata"
Astrological Aspects (Times are shown for Mountain Standard Time Zone, degrees have been rounded off)
Dec 1: New Moon, 5:22 pm, 11º Sagittarius,  Ruler, Jupiter, in Cancer trine Saturn in Scorpio
Dec 3: Mercury sextile Mars, 9:35 am, 28º Scorpio/Virgo
Dec 4: Mercury enters Sagittarius, 7:42 pm
Dec 6: Mercury square Neptune, 2:31 pm, 3º Sagittarius/Pisces
Dec 7: Mars enters Libra, 1:41 pm
Dec 10: Mercury trine Uranus, 10:05 am, 9º Sagittarius/Aries
Dec 12: Jupiter trine Saturn, 5:00 pm, 18º Cancer/Scorpio
Dec 17: Full Moon, 2:28 am, 26º Gemini
Dec 17: Jupiter sesquisquare Neptune, 18º Cancer/3ºPisces
Dec 17: Uranus Direct, 10:39 am, 9º Aries
Dec 21: Sun enters Capricorn, Winter Solstice, 10:11 am
Dec 21: Venus Retrograde, 2:53 pm, 29º Capricorn
Dec 24: Mercury enters Capricorn, 3:12 am
Dec 24: Sun sextile Neptune, 10:06 am, 3º Sagittarius/Pisces
Dec 25: Mars opposite Uranus, 1:33 am, 9º Libra/Aries
Dec 25: Moon in Libra sqr Mercury & Sun ,opp Uranus, conj Mars, sqr Pluto, 2 am -8 pm
Dec 26: Mercury sextile Neptune, 2:04 am, 3º Capricorn/Pisces
Dec 29: Mercury square Uranus, 1:48 pm, 9º Capricorn/Aries
Dec 29: Sun square Uranus, 10:05 pm, 9º Capricorn/Aries
Dec 30: Mars square Pluto, 6:16 pm, 11º Libra/Capricorn
Dec 31: Mercury conjunct Pluto, 4:24 am, 11º Capricorn
Dec 31: Mercury square Mars, 7:59 am, 11º Capricorn/Libra
Jan 1, 2014: New Moon, 4:14 am, 11º Capricorn. Sun and Moon in Capricorn square Uranus in Aries, conjunct Pluto and Mercury in Capricorn, square Mars in Libra
Jan 2: Sun square Mars, 5:14 pm, 12º Capricorn/Libra
Forecast for September, October and November 2013
The waves of change and transformation have been very strong this summer and will continue as we move into fall. Many people have already started making big changes in their lives.
September through November will be quite a complex and interesting three month period. It appears to be a time when important spiritual and Life Path choices can be made. This is due to four astrological energy patterns overlapping and interconnecting. They are listed below.
1.  DECISION TIME:  September 1 to October 15, 2013 
Saturn in Scorpio sextile Pluto in Capricorn
This helpful influence has been with us all year. It was very strong from December 2012 through March 2013 and will reach its final peak from September 1 to October 15, 2013. Events will be urging us to take responsibility for our own transformation. Although this is a positive influence, it is not necessarily easy. In order to use these energies productively, we need to be responsible, mature, focused, hardworking, grounded, patient and determined. We also must be willing to face our fears, to delve into unknown territory and to let go of that which no longer is viable or has outlived its usefulness in our lives.
September could be a turning point for many people. Saturn will be exactly sextile Pluto on September 20, the same day that Pluto changes from retrograde to direct motion. From September 15 to 25 as Pluto stops and switches from retrograde to direct motion, it will seem to stand still in the heavens. Pluto's intense transformative energy will be very powerful and focused during this ten day period.
How you can use these energies in your personal life:
Apply what you have learned, felt and experienced so far this year.
Make your daily life more of a reflection of your Higher Self by harmonizing your physical/material world with your spiritual world. Walk your talk and live according to your beliefs.
2.   KARMIC RELEASE:  September 1 to November 30, 2013 
Saturn in Scorpio conjunct N. Node in Scorpio and trine Chiron in Pisces; Pluto in Capricorn sextile N. Node and sextile Chiron; Solar Eclipse in Scorpio on November 3 conjunct Saturn, N. Node and Mercury.
Throughout this three month period, we will have opportunities to make new spiritual choices. We could heal some life-long unhealthy behaviors and attitudes. We may be called upon to act in a new way when confronted with a challenging situation. While it might seem like a new situation, it is likely to reflect an old recurring theme in our lives. If so, that is precisely the karma we can release by reacting in a different way and breaking the cycle.
Fortunately, there are several positive influences at this time. Many people will be pleased to find that letting go of old behaviors or situations will be easier than they expected. It will still take personal effort, but life long struggles with issues such as over eating, relationships, family, money, anger, resentment, low self esteem, etc. could be finally be dealt with and released. As we leave an old path behind, we will find a new path unfolding before us. Take advantage of this opportunity. The choices we make at this time will be very important. Once embarked upon the path we have chosen, we will be committed to finishing it.
How you can use these energies in your personal life:
Be open to whatever inner information is revealed to you.
Be willing to drop old unhealthy behaviors.
Be willing to step into a more spiritually attuned way of living.
3.  CELESTIAL POWWOWS: October 1 to November 26, 2013 
Mercury in Scorpio trine Neptune and Chiron in Pisces; Mercury in Scorpio conjunct Saturn and N. Node in Scorpio; Mercury in Scorpio sextile Pluto in Capricorn.
Mercury will join Saturn in the deep, determined and mysterious sign of Scorpio on September 29. It will turn retrograde in Scorpio from October 21 to November 10, and will stay in Scorpio until December 4. This back and forth movement will result in three separate get-togethers or "Powwows" between Mercury, Neptune, Saturn, N. Node, Pluto and Chiron. While the Scorpio energies will be quite intense, the favorable aspects listed above should make these meetings quite productive.
October and November will be very important time for developments in the world and also in our personal lives. The combination of Mercury and Saturn in Scorpio will bring an intense determination to uncover anything that has been hidden and will cause us to look at things with a very critical eye. During this eight week period there will be many discussions, revelations, realizations and revisions that will take until the last part of November to finalize. Pay attention to details. Focus on the positive and avoid being overcautious or overcritical. Balance and perspective will be needed.
If you formalize something in October and November make sure it is something you want to have in your life for a long time.
The energies involved are listed below. These energies will come together for three separate powwows lasting about ten days each time (see below). The first time is the beginning of something, the second time brings a need to revise, refine or get more information, and the third time will be the completion.
Powwow Attendees:
Mercury: (the Scout) the mind, thinking, perception, information, discussions, mental attitude, communications, reasoning, media, information, speaking, writing, transportation and commerce.
Saturn: (the Chief) authority, law and order, greatest challenges in life, karmic lessons, responsibilities, duties, obligations, organization, focus, the physical realities of life.
The North Node/South Node: (the Ancestors) attitudes, associations, habits and behaviors from past lifetimes that we need to balance out in this lifetime.
Neptune: (the Priest/Priestess) spirituality, compassion, intuition, psychic energy, imagination and creativity.
Pluto: (the Shaman) transformation, power, release, rebirth.
Chiron: (the Healer) inner spiritual healer, teacher, counselor and channel between the physical world and the spiritual realms.
 How you can use these energies in your personal life:
The above energies reside within you. Go within and observe how they are currently manifesting in your life.
Honor and be grateful for these energies in your life.
Have your own inner powwows utilizing these parts of yourself.
Allow things to unfold and develop over the series of the three powwows shown below.
The Dates:
Powwow # 1: October 1 to October 9 - Something is likely to start around this time that will come up again during the Mercury retrograde phase. Pay attention to outer events, thoughts, intuition and inner rumblings (your emotions, not your stomach). They could be a preview of things to come.
Powwow # 2: October 29 to November 9 – New information or unexpected changes could occur. Plans may need to be revised or refined.
Mercury Direct: November 10 – Time to start moving forward toward the conclusion of a project or situation.
Powwow # 3: November 11 to November 21 – Final meeting and completion. Powwow #2 and # 3 are back to back. A shift in thinking may occur over November 9-11 as Mercury goes Direct while it is locked in a positive aspect (trine) to Neptune. This will bring a great deal of sensitivity, creativity, compassion and intuition into the thought process. Perhaps an intuitive flash of insight will help bring projects or situations to a positive conclusion.
4.  WE'RE NOT DONE YET: September through November 2013
Uranus in Aries square Pluto in Capricorn
Last, but certainly not least, the radical restructuring  energies of Uranus and Pluto will be gearing up for another exact square on November 1, 2013. This will be the fourth square in a series of seven. (This influence began in 2012 and will continue through 2015.)
We have been watching these energies manifest as chaotic and uncertain conditions all over the world. They will continue to do so. Many have also found their personal lives going through changes and transformations. Although it can be unsettling and surprising, this influence can also be liberating and exciting. The potential for change is strong from October 30 to November 3 when helpful energies from the Sun, Mercury and Mars will blend with Uranus and Pluto. In addition, a solar eclipse will occur on November 3, which indicates this will be a time of shifting circumstances.
As you can see, September through November is an interesting time filled with lots of potential! Knowing the nature of the influences we will experience and when they will occur can be helpful. As always, how we choose to react to these energies is up to each one of us.
One thing we do know – we're all in this together as we journey around the Sun on this great planet we call Earth.
Happy Trails to You on the Path of Life!
Judy Joyce
Below are some astrological details for September, October and November. Times shown are Mountain Daylight Time (Zone 7). Degrees have been rounded off.
September 2013
Sep  1:  Sun  Trine Pluto,  2:43 am, 9° Vir-Cap
Sep  1:  Sun Sxtil Node,  6:27 pm,  10° Vir-Sco
Sep  3:  Sun Oppos Chiron,  1:14 pm , 11° Vir-Pis
Sep 5:  New Moon, 5:36 am, 13° Virgo
Sep 6:  Pluto Sxtil Node, 3:11 am, 9 ° Cap-Sco
Sep 9:  Mercury enters Libra, 1:07 am
Sep 9:  Mars Sqr Saturn, 5:06 am. 8° Leo- Sco
Sep 11:  Venus enters Scorpio, 12:16 am
Sep 14:  Mercury Sqr Pluto, 2:29 PM, 9° Lib-Cap
Sep 14:   Mars Trine Uranus, 2:57 pm,11° Leo- Ari 16
Sep 16:   Mercury Oppos Uranus, 12:41 am, 11° Lib-Ari
Sep 16:  Saturn Conj Node, 10:40 pm,  9° Sco
Sep 18:  Venus Conj  Node,  8:07 am, 9 ° Sco
Sep 18:  Venus Conj Saturn,  2:54 pm,  9° Sco
Sep 19:  Full Moon, 5:13 am, 27° Pisces
Sep 20:  Pluto Direct, 9:29 am, 9° Capricorn
Sep 20:  Saturn Sextile Pluto, 11:45 pm, 9° Sco-Cap
Sep 22:  Fall Equinox Sun into Libra, 2:44 pm
Sep 29:  Mercury enters Scorpio, 5:38 am
October 2013
Oct 1:  Mercury Trine Neptune, 3:46 pm, 3° Sco-Pis
Oct 1:  Sun Sqr Pluto, 7:28 pm, 9° Lib- Cap
Oct 2:  Saturn Trine Chiron, 3:39 am, 10° Sco-Pis
Oct 3:  Sun Oppos Uranus, 8:12 am, 11° Lib-Ari
Oct 4: New Moon, 6:35 pm, 12° Libra
Oct 4: Saturn Quincunx Uranus, 10:45 pm, 10° Sco-Ari
Oct 5:  Mercury Conj Node, 4:34 pm, 8° Sco
Oct 6:  Mercury Sxtil Pluto, 7:57 pm, 9° Sco-Cap
Oct 7: Venus enters Sagittarius, 11:54 am
Oct 7:  Mercury Trine Chiron, 4:07 pm, 10° Sco-Pis
Oct 8:  Mercury Conj Saturn, 1:39 pm, 11° Sco
Oct 12:  Sun Sqr Jupiter, 9:08 am, 19° Lib-Can
Oct 15: Mars enters Virgo, 5:05 am
Oct 18: Full Moon/Lunar Eclipse, penumbral, 5:38 pm, 26°Ari
Oct 21: Mercury Retrograde, 4:28 am, 18° Scorpio
Oct 23: Sun enters Scorpio, 12:10 am
Oct 28:  Pluto Sxtil Chiron, 5:03am, 9° Cap- Pis
Oct 29:  Mercury Conj Saturn, 2:48 pm, 13 Sco
Oct 30:  Sun Conj Node, 6:53 pm, 8° Sco
Oct 31:  Mar Oppos Chiron, 12:08 am, 9° Vir-Pis
Oct 31:  Mars Trine Pluto, 4:49 am, 9° Vir-Cap

November 2013
Nov 1: Uranus Sqr Pluto, 4:30 am, 9° Ari-Cap
Nov 1:  Sun Trine Chiron, 7:12 am, 9° Sco-Pis
Nov 1:  Sun Sxtil Pluto, 11:05 am, 9° Sco- Cap
Nov  1:  Sun  Conj  Mercury,  2:19 pm, 10 Sco
Nov  1:  Mercury Sxtil Pluto,  4:44 pm, 9° Sco- Cap
Nov  1:  Mercury Trine Chiron, 7:59 pm, 9° Sco-Pis
Nov  3:  Mercury Conj Node,  12:21 am, 8° Sco
Nov 3: New Moon/Solar Eclipse, total, 5:50 am, 11° Sco
Nov 5: Venus enters Capricorn, 1:43 am
Nov 6:  Sun Conj Saturn, 6:01 am, 14° Sco
Nov 6: Jupiter Retrograde, 10:03 pm, 21° Cancer
Nov 8:  Mercury Sxtil Venus, 6:23 am, 3° Sco- Cap
Nov 9:  Mercury Trine Neptune, 3:35 pm, 3° Sco- Pis
Nov 10: Mercury Direct, 2:12 pm, 3° Scorpio
Nov 11: Mercury Trine Neptune, 1:48 pm, 3° Sco- Pis
Nov 12:  Sun Trine Jupiter, 10:39 am, 20 ° Sco-Can
Nov 13: Neptune Direct, 11:42 are, 3° Pisces
Nov 14:  Venus Sqr Uranus, 7:13 pm, 9 ° Cap-Ari
Nov 14:  Venus Sxtil Chi, 9:59 pm, 9 ° Cap- Pis
Nov 15:  Venus Conj Pluto, 3:33 pm, 10° Cap
Nov 17: Full Moon, 8:16 am, 25° Taurus
Nov 18:  Mercury Conj  Node,  10:41 pm, 8 ° Sco
Nov 19:  Chiron Direct,  7:07 am, 9 ° Pis
Nov 20:  Mercury Trine Chiron,  4:16 am, 9 ° Sco- Pis
Nov 20:  Mercury Sxtil Pluto, 8:09 pm, 10 ° Sco- Cap
Nov 21: Sun enters Sagittarius, 8:48 pm
Nov 24:  Sun Sqr Neptune, 11:52 am, 3 °Sag- Pis
Nov 25:  Mercury Conj Saturn, 7:54 pm, 17 ° Sco
Nov 27:  Mercury Sxtil Venus,  8:45 pm, 20 ° Sco-Cap
Nov 28:  Mercury Trine Jupiter, 1:23 am, 20 ° Sco-Can
Nov 30:  Sun Trine Uranus,  12:25 pm,  9 ° Sag- Ari
Nov 30:  Sun Sqr  Chiron, 11:40 pm, 9 ° Sag- Pis
Summer 2013
The Express Train to the Unknown Has Left the Station.
You are on the Train.
Astrological aspects for June -August are at the end of this article
Have you felt the energies gearing up over the past 2-3 months? Most people have been busy, busy, busy. Your energy level may have been in overdrive. Something like drinking an entire pot of espresso during the day, then crashing, but having trouble sleeping at night because your mind is still buzzing with activity. That is the dynamic influence of Uranus squaring Pluto. Life is speeding up. Change and transformation are occurring and we are swept up in the flow. As I write this on the afternoon of May 20, 2013, the radical restructuring aspect of Uranus in Aries squaring Pluto in Capricorn is exact. This is only the third in a series of seven exact squares between these two planets from 2012 through 2015.
And it's about to get even more intense. When Jupiter moves into Cancer on June 25, new developments will begin that are likely to bring existing conditions to a peak of intensity over the summer months. That's because Jupiter will be in a challenging position to the two radical restructuring planets, Uranus and Pluto. Jupiter brings optimism, growth and expansion. Which means the radical restructuring energies are going to get bigger and more powerful. Unexpected events, surprises, changes, upheavals and crises could occur. Radical Restructuring? You ain't seen nuthin' yet!
However, Jupiter's expansive energies will also be flowing harmoniously with Saturn in Scorpio (maturity, responsibility) and Neptune in Pisces (creativity, intuition, compassion). In addition to the expanding and challenging radical restructuring energies, we will have flowing and helpful energies at our disposal. Change can happen more easily and faster than usual. Opportunities, openings, breakthroughs, spiritual awakenings and sudden insights can occur. These easier flowing energies started around mid-May and will gain strength this summer, especially in July.
Huge changes often happen when challenges reach their greatest intensity. The radical restructuring energies will force us to deal with something that cannot be ignored. The flowing energies can provide us with the optimism, creativity and spiritual insight to restructure our lives in a positive and healthy way.
July will be the high point of the flowing energies and August will be the month when the most dynamic and challenging activity is likely to occur.
The energies we will experience this summer are part of our Life Path. It is time to do a major restructuring both in the world and in our individual lives. Although this radical restructuring has been going on for a few years and will last for a few more years, the summer of 2013 could easily be one of the most intense periods we will experience.
It is not supposed to be easy. It will not be easy. Radical restructuring is, well…. radical.
USA and World: It may be hard to discern what is really going on at times. Emotions will be surging. People will want fast and assertive action and may act before they have all the facts. Situations that begin in the world and in the USA this summer may not be resolved until May 2014. Information will develop over time and is likely to change. Keep that in mind when you hear and read the news.
Your Individual Life: Where are you already making changes in your life? Those are the areas that are most likely to intensify this summer. You should start to notice this around the end of June or early July. Challenges and opportunities are very likely to arise. Courage and determination will be required. You will need to step out of your comfort zone. Open your heart to the optimistic, intuitive and creative energies that will be flowing around you. Try something new, improve your life and liberate yourself from restricting circumstances and attitudes.
Whether we like it or not, we are living in a time of tremendous change and transformation. If you have been thinking about making some changes, then conditions over the next three months are likely to force you into making a decision. Go for it!
Would you like to know what this summer has in store for your sign? The 2013 Astrology Guidebook for All 12 Signs has a complete section for your sign explaining how the major aspects will affect you for the year, plus your own month by month forecast. Click here to Look Inside
Thanks for Reading and Have a Radically Wonderful Summer!
 Judy
Astrological aspects, June- August, 2013
June 2013     MDT, Time Zone 7
Jun 2               Venus enters Cancer, 8:13 pm
Jun 7               Neptune Rx, 2:25 am, 5° Pisces
Jun 8              New Moon, 9:56 am, 18° Gemini
Jun 11              Saturn Trine Neptune, 5:26 pm, 5° Sco-Pis
Jun 20              Summer Solstice Sun into Cancer, 11:04pm
Jun 23            Full Moon, 5:32 am, 2° Capricorn
Jun 25            Jupiter enters Cancer, 7:40 pm
Jun 26            Mercury Retrograde, 7:07 am, 23° Cancer
Jun  27           Venus enters Leo, 11:03 am
July 2013
Jul 7                Saturn Dir, 11:11 pm, 5° Scorpio
Jul 8               New Moon, 1:14 am, 16° Cancer
Jul 13             Mars enters Cancer, 7:22 am
Jul 17             Uranus Rx, 11:20 am, 13° Aries
Jul 17             Jupiter Trine Saturn, 11:31 am, 5° Can-Scor
Jul 17             Jupiter Trine Neptune, 6:14 pm, 5° Can-Pis
Jul 19             Saturn Trine Neptune, 7:20 am, 5° Sco-Pis
Jul 20             Mercury Direct, 12:22 pm, 13° Cancer
Jul 22            Venus enters Virgo, 6:41 am
Jul 22             Sun enters Leo, 9:56 am
Jul 22             Full Moon, 12:16 pm, 0° Aquarius
August 2013
Aug 6             New Moon, 3:51 pm, 15° Leo
Aug 7              Jupiter Opposite Pluto, 5:46 pm, 9° Can-Cap
Aug 8              Mercury enters  Leo, 6:13 am
Aug 16           Venus enters Libra, 9:37 am
Aug 20           Full Moon, 7:45 pm, 28° Aquarius
Aug 21           Jupiter Square Uranus, 1:15 am, 12° Can-Ari
Aug 22           Sun enters Virgo, 5:02 pm
Aug 23           Mercury enters Virgo, 4:36 pm
Aug 27           Mars enters Leo, 8:05 pm
Summer Major Aspects: Uranus in Aries square Pluto in Capricorn all summer; Saturn in Scorpio trine Neptune in Pisces Jun 11; Jupiter into Cancer Jun 25; Jupiter will trine Saturn and Neptune forming a grand trine in water signs Jul 17-19; N. Node in Scorpio trine Chiron in Pisces Jul 25; Jupiter will oppose Pluto Aug 7 and square Uranus Aug 21 forming a T-Square for most of Aug; Jupiter trine N. Node Aug 16 and trine Chiron Aug 21.
 
Also see: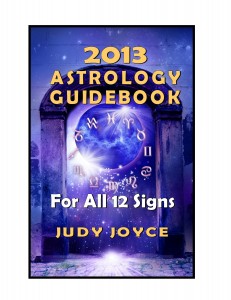 2013 ASTROLOGY
GUIDEBOOK
for All 12 Signs 
The 2013 Astrology Guidebook is for all twelve signs. No need to buy a separate book for each Sign. You can read the forecast for your Sun sign, for your Ascendant sign and for friends and family all in one book.  This big book has a separate section for each sign that has an overview for 2013 and a month by month forecast. Also includes a 2013 World Overview, instructions for New Moon and Birthday Ceremonies, information on Mercury Retrograde and more. Available at Amazon.com
Trade paperback, 6×9″, 365 pages. $16.99. ORDER NOW
E-book, $8.99. ORDER KINDLE     Also available in other EBook formats.  
Get a Personal Forecast Report based on your individual birth chart