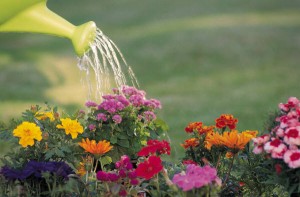 Contents
The Moon through the Signs
The New Moon and the Full Moon
Best Planting Dates March – December 2013
The Moon through the Signs
 The Moon moves through all twelve signs about every 28 days and spends a little over two days in each sign. Because the Moon rules fertility and growth, it has been used in agriculture since ancient times. The water signs of Cancer, Scorpio and Pisces are the most favorable for planting. The earth signs of Taurus, Capricorn and the air sign of Libra are also favorable. Here is a brief explanation of how you can use the Moon signs in your gardening activities.
 ARIES: Dry and barren time. Do not plant. Good for digging, cultivating and weeding.
 TAURUS: Productive time. Good time for planting, especially root crops. This is also a good time for transplanting.
 GEMINI: Dry and barren time. Good for working the soil and harvesting. Have friends over for a chat and a chance to admire your garden. Read your garden manuals.
 CANCER:  This a very good time to plant and is the most fertile sign of the zodiac. It is the best time for all kinds of planting. This is a good time for watering, fertilizing, grafting and transplanting.
 LEO: This is the driest, most infertile sign. However, it is a very good time for killing weeds or pests or for cultivating what is already growing.
 VIRGO: Barren time. Good time for general maintenance, clean-up and organizing. This is also a good time to eliminate pests using natural products.
 LIBRA: An excellent time to plant beautiful and fragrant flowers and to beautify and decorate the garden and patio. This is an especially good time to plant roses.
 SCORPIO: This is a very productive time for planting all types of plants – flowers, vegetables, fruits and berries. It is also a good time to irrigate and prune.
 SAGITTARIUS: Dry and barren time. Good for weeding and getting rid of insects.
 CAPRICORN: Semi-fertile time. Not the best for flowers, but good time to plant root crops, shrubs, bushes and trees. The Moon in Capricorn is especially good for plants that will have to withstand drought.
 AQUARIUS: Dry and barren time. Good time to work on insect and weed control.
 PISCES: Very productive time. An excellent time for planting, especially root vegetables and flowers that grow from bulbs and tubers. Planting now can help give plants and bushes deep root systems.
The New Moon and the Full Moon
 NEW MOON to Full Moon:
 The moon is increasing in light and is called the waxing moon. It is in effect from the New Moon to the next Full Moon.
Things planted during the waxing moon are said to grow faster.
Grass cut during the waxing moon will grow faster.
Good for planting everything that bears fruit above the ground.
Best time to plant annuals.
Good time for transplanting all plants.
FULL MOON to New Moon:
 The moon is decreasing in light and is called the waning moon. It is in effect from the Full Moon to the next New Moon.
The week following the Full Moon is a good time to plant biennials, perennials and bulb and root crops.
Good time to do pruning.
Best time for cultivating and harvesting.
Grass cut during the waning moon will grow slower.
The week just prior to the New Moon is the best time for tilling, weeding and destroying insects.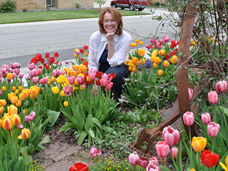 Wishing You Joy in the Garden of Life!
 Judy Joyce
Best Planting Times
March 5 through December 31, 2013
 The following list is a quick overview of good days to plant. Of course, weather and soil conditions, temperature, light and moisture requirements must also be taken into consideration. Letting your plants know that you care about them by talking to them or sending them good thoughts is very helpful, too!
 Times shown are for Mountain Time (Time Zone 7). Daylight Savings Time is used from March 10 to November 1, 2013. Pacific Time is one hour earlier, Central Time is one hour later and Eastern Time is two hours later. Greenwich Mean Time is seven hours later  (Standard Time) or six hours later (Daylight Savings Time).
 The best dates for planting are shown below in green.
Dates and times of the New Moon and Full Moon are shown in blue.
The notation of all day means from 6 am to 9 pm.
 Dates                     plant                Moon Sign
 Tue   Mar 5          start 5:14 pm   Capricorn
Wed   Mar 6          all day             Capricorn
Thu    Mar 7         stop 8:00 pm    Capricorn
Mar 8-9                  No                    Aquarius
Sun  Mar 10         all day              Pisces
Mon  Mar 11        all day              Pisces New Moon 1:51 pm – Waxing begins
Mar 12-13             No                     Aries
Thu   Mar 14        start 1:08 pm    Taurus
Fri     Mar 15        all day               Taurus
Sat    Mar 16       all day               Taurus
Mar 17-18             No                    Gemini
Tue    Mar 19      12:55 pm           Cancer
Wed   Mar 20      all day               Cancer (Spring Equinox at 5:02 am)
Thu    Mar 21     all day                Cancer
Mar 22-23              No                    Leo
Mar 24-25              No                    Virgo                                                  
Tue    Mar 26       start 3:32 pm    Libra
Wed   Mar 27       all day               Libra Full Moon 3:27 am – Waning begins
Thu    Mar 28       all day               Libra to Scorpio 6:54 pm
Fri      Mar 29       all day               Scorpio
Sat     Mar 30       all day              Scorpio 
Mar 31                   No                     Sagittarius
 Apr 1                    No                     Sagittarius
Tue  Apr 2          all day               Capricorn
Wed  Apr 3        all day               Capricorn
Apr 4-5                No                      Aquarius
Sat   Apr 6        start 7:00 am      Pisces
Sun  Apr 7       all day                 Pisces
Mon  Apr 8      stop 1:00 pm       Pisces
Apr 9                 No                        Aries
Wed  Apr 10   No                         Aries New Moon 3:35 am – Waxing begins
Thu  Apr 11  all day                Taurus
Fri    Apr 12   all day               Taurus
Mar 13-15        No                    Gemini
Tue  Apr 16      all day            Cancer
Wed  Apr 17     all day            Cancer
Thu  Apr 18     stop 9:10 am    Cancer
Apr 19-20         No                    Leo
Apr 21-22          No                  Virgo
Tue  Apr 23       all day            Libra
Wed  Apr 24      all day            Libra
Thu   Apr 25      all day           Scorpio Full Moon 1:57 pm – Waning begins
Fri    Apr 26       all day          Scorpio
Apr 27-28            No                Sagittarius
Mon  Apr 29     start 6:21 am  Capricorn
Tue   Apr 30    all day             Capricorn        
May 1-2             No                   Aquarius
Fri    May 3      start 12:25 pm  Pisces
Sat   May 4       all day               Pisces
Sun  May 5       stop 7:00 pm     Pisces
May 6-7            No                       Aries
Wed  May 8      all day              Taurus
Thu   May 9      all day             Taurus New Moon 6:28 pm – Waxing begins
Fri     May 10    stop 3:20 pm    Taurus
May 11-12          No                     Gemini
Mon  May 13    all day             Cancer
Tue   May 14    all day              Cancer
Wed  May 15   stop 4:37 pm      Cancer
May 16-17         No                      Leo
May 18-19          No                      Virgo
Mon  May 20    start 11:07 am   Libra
Tue   May 21    all day               Libra
Wed  May 22    all day               Libra to Scorpio 2:55 pm
Thu   May 23     all day             Scorpio
Fri     May 24     stop 3:48 pm    Scorpio
Fri     May 24      No                      Sag Full Moon 10:25 pm – Waning begins
May 25                No                     Sagittarius
Sun   May 26     start 3:28 pm    Capricorn
Mon  May 27    all day               Capricorn
Tue   May 28    stop 3:47 pm      Capricorn
 May 29              No                      Aquarius
Wed  May 30   start 6:30 pm      Pisces
Fri    May 31    all day                 Pisces
Sat    Jun 1       all day                 Pisces
Jun 2-3              No                        Aries
Tue   Jun 4      start 9:53 am        Taurus
Wed  Jun 5      all day                   Taurus
Thu   Jun 6      all day                   Taurus
Jun 7                  No                          Gemini
Jun 8                  No                       Gemini New Moon 9:56 am – Waxing begins
Sun  Jun 9      start 10:16 am        Cancer
Mon  Jun 10   all day                   Cancer
Tue   Jun 11    all day                  Cancer
Jun 12-13          No                        Leo
Jun 14-15           No                       Virgo
Sun   Jun 16     start 7:19 pm       Libra
Mon  Jun 17     all day                 Libra
Tue  Jun 18      all day                 Libra
Wed  Jun 19     all day                 Libra to Scorpio 12:39 am
Thu   Jun 20    all day                 Scorpio (Summer Solstice 11:04 pm)
 Jun 21-22         No                        Sagittarius
Sun   Jun 23     all day                Cap Full Moon 5:32 am – Waning begins      
Mon  Jun 24      all day               Capricorn
Jun 25-26            No                      Aquarius
Thu   Jun 27     all day                 Pisces
Fri   Jun 28        all day                Pisces
Jun 29-30           No                       Aries
Mon  Jul 1         start 3:43 pm       Taurus
Tue   Jul 2        all day                  Taurus
Wed  Jul 3        all day                   Taurus
Jul 4-5               No                           Gemini
Sat  Jul 6          start 4:14 pm          Cancer
Sun  Jul 7         all day                    Cancer
Mon  Jul 8       all day                     Cancer New Moon 1:14 am – Waxing begins
Jul 9-11            No                            Leo
Jul 12-13          No                            Virgo
Sun   Jul 14    all day                      Libra
Mon  Jul 15    all day                      Libra
Tue   Jul 16    all day                      Libra to Scorpio 8:24 am
Wed  Jul 17    all day                      Scorpio
Thu   Jul 18    stop 11:53 am           Scorpio
 Jul 19               No                            Sagittarius
Sat    Jul 20    start 12:39 pm           Capricorn
Sun   Jul 21     all day                      Capricorn
Mon  Jul 22    stop 12:06 pm           Capricorn
Jul 22                No                           Aqr Full Moon 12:15 pm – Waning begins
Jul 23               No                              Aquarius
Wed Jul 24    start 12:22 pm             Pisces
Thu   Jul 25   all day                         Pisces
Fri    Jul 26     stop 3:28 pm              Pisces
Jul 27-28          No                              Aries
Mon  Jul 29     all day                      Taurus
Tue   Jul 30     all day                      Taurus
Wed  Jul 31     stop 9:41 am              Taurus
Aug 1-2             No                             Gemini
Sat   Aug 3      all day                       Cancer
Sun  Aug 4     all day                        Cancer
Mon  Aug 5    stop 10:57 am             Cancer
Aug 6                No                             Leo New Moon 3:51 pm – Waxing  begins
Aug 7               No                              Leo
Aug 8-9           No                              Virgo
Sat  Aug 10   start 7:08 am              Libra
Sun  Aug 11   all day                        Libra
Mon  Aug 12   all day                      Libra to Scorpio 2:18 pm
Tue   Aug 13   all day                     Scorpio
Wed  Aug 14    stop 7:03 pm           Scorpio
Aug 15-16         No                            Sagittarius
Sat   Aug 17     all day                     Capricorn
Sun  Aug 18      all day                    Capricorn
Aug 19                No                         Aquarius
Aug 20               No                         Aqr Full Moon 7:45 pm – Waning begins
Wed  Aug 21     all day                  Pisces
Thu  Aug 22      all day                  Pisces
Aug 23-24           No                        Aries
Sun  Aug 25       start 7:13 am        Taurus
Mon  Aug 26     all day                   Taurus
Tue  Aug 27      stop 5:07 pm          Taurus
Aug 28-29          No                          Gemini
Fri   Aug 30       all day                    Cancer
Sat  Aug 31        all day                    Cancer
Sun  Sep 1          stop 6:00 pm          Cancer
Sep 2-3                No                          Leo
Sep 4                    No                          Virgo
Sep 5                    No                          Virgo New Moon 5:36 am – Waxing begins
Fri   Sep 6          start 1:12 pm          Libra
Sat  Sep 7           all day                   Libra
Sun  Sep 8          all day                    Libra to Scorpio 7:44 pm
Mon  Sep 9         all day                    Scorpio
Tue  Sep 10        all day                    Scorpio
Sep 11-12             No                          Sagittarius
Fri  Sep 13         all day                      Capricorn
Sat  Sep 14        all day                       Capricorn
Sep 15-16           No                             Aquarius
Tue  Sep 17       start 7:58 am              Pisces
Wed  Sep 18      all day                        Pisces
Thu  Sep 19       stop 10:57 am          Pisces Full Moon 5:13 am – Waning begins
Sep 20                 No                              Aries
Sat  Sep 21        start 4:33 pm              Taurus
Sun  Sep 22       all day                        Taurus (Fall Equinox 2:44 pm)
Mon  Sep 23      all day                        Taurus
Sep 24-25            No                             Gemini
Thu  Sep 26      start 1:24 pm               Cancer
Fri   Sep 27       all day                         Cancer
Sat  Sep 28        all day                         Cancer
Sep 29-30           No                               Leo
Oct 1-3                 No                              Virgo
Fri   Oct 4           all day                     Libra New Moon 6:34 pm – Waxing begins
Sat  Oct 5           all day                         Libra
Sun  Oct 6          all day                         Libra to Scorpio 2:33 am
Mon  Oct 7         all day                         Scorpio
Oct 8-9                 No                              Sagittarius
Thu  Oct 10        start 9:17 am               Capricorn
Fri   Oct 11         all day                         Capricorn        
Sat   Oct 12        stop 11:59 am              Capricorn
Oct 13                  No                              Aquarius
Mon  Oct 14      start 3:06 pm               Pisces
Tue  Oct 15       all day                         Pisces
Wed  Oct 16      stop 7:17 pm                Pisces
Oct 17                 No                               Aries
Oct 18                No                            Aries Full Moon 5:38 pm – Waning  begins
Sat  Oct 19       all day                         Taurus
Sun  Oct 20      all day                         Taurus
Mon  Oct 21      stop 10:13 am              Taurus
Oct 22-23           No                               Gemini
Thu  Oct 24       all day                         Cancer
Fri  Oct 25         all day                         Cancer
Sat  Oct 26         stop 10:11 am              Cancer
Oct 27-28             No                              Leo
Oct 29-30            No                              Virgo
Thu  Oct 31        start 6:22 pm               Libra
Fri    Nov 1          all day                         Libra
Sat   Nov 2          all day                         Libra to Scorpio 11:35 am
Sun   Nov 3         all day                   Scor New Moon 5:50 am – Waxing begins
Mon  Nov 4         stop 1:13 pm                Scorpio
Nov 5                    No                               Sagittarius
Wed  Nov 6      start 2:44 pm                 Capricorn
Thu  Nov 7         all day                         Capricorn
Fri  Nov 8           stop 4:29 pm               Capricorn
Nov 9-10             No                              Aquarius
Mon  Nov 11      all day                         Pisces
Tue   Nov 12      all day                         Pisces
Nov 13-14       No                               Aries
Fri   Nov 15    all day                            Taurus
Sat  Nov 16     all day                            Taurus
Sun  Nov 17     stop 5:06 pm              Tau Full Moon 8:16 am – Waning begins
Nov 18-19         No                               Gemini
Wed Nov 20    all day                             Cancer
Thu  Nov 21    all day                             Cancer
Fri    Nov 22    stop 4:55 pm                    Cancer
Nov 23-24        No                                  Leo
Nov 25-26        No                                  Virgo
Wed  Nov 27   start 3:00 pm                 Libra
Thu  Nov 28    all day                            Libra
Fri   Nov 29     all day                            Libra to Scorpio 9:03 pm
Sat  Nov 30      all day                            Scorpio
Sun   Dec 1        all day                           Scorpio
Dec 2                   No                            Sag New Moon 5:22 pm – Waxing begins
Dec 3                   No                               Sagittarius
Wed  Dec 4        all day                          Capricorn
Thu   Dec 5        all day                          Capricorn        
Dec 6-7                No                               Aquarius
Sun   Dec 8         all day                         Pisces
Mon  Dec 9         all day                         Pisces
Dec 10-11             No                               Aries
Thu   Dec 12        start 1:40 pm              Taurus
Fri    Dec 13         all day                         Taurus
Sat    Dec 14         all day                         Taurus
Dec 15-16              No                               Gemini
Dec 17                    No                        Gem Full Moon 2:28 am – Waning begins
Tue   Dec 17        start 11:17 am              Cancer
Wed  Dec 18         all day                         Cancer
Thu   Dec 19         all day                         Cancer
Dec 20-22               No                              Leo ( Winter Solstice, Dec 21, 10:11 am)
Dec 23-24               No                               Virgo
Wed  Dec 25         all day                          Libra
Thu   Dec 26         all day                          Libra
Fri    Dec 27          all day                         Libra to Scorpio 6:58 am
Sat  Dec 28            all day                         Scorpio
Sun  Dec 29            stop 10:36 am              Scorpio
Dec 30                      No                               Sagittarius
Tue   Dec 31            start 11:01 am            Capricorn