Previous Forecasts  
Happy Spring!
March 2014 Forecast Notes:(1) Radical Restructuring is a phrase below to describe the profound change, upheaval and transformation  that has been affecting our world and our individual lives for the last several years. It will continue through 2015. Astrologically, these energies are represented by a square (90 degree angle) between Uranus in Aries and Pluto in Capricorn.
For more information see: Radical Restructuring article.
(2) Personal Forecast Reports are available to order. See a sample report: One Year Detailed Forecast Report
(3) The pertinent astrological aspects for March are at the end of this Forecast.
FORECAST FOR MARCH 2014
 March 1-9 ~ Deciding on a Direction
This will be an important nine day period. Several planets will begin to gradually move into position for a gathering of energies that will coalesce into a powerful surge of change and transformation (radical restructuring) in April 2014. This directional shift will be reflected in both world situations and our individual lives. The shift may be subtle in the beginning, but will build during the month of March and accelerate in April.
March 1 begins with a New Moon in the sensitive and imaginative sign of Pisces. The New Moon takes place every 29.53 days. It signals a time for a new beginning and brings in energy for a fresh start. This New Moon carries the seeds of imagination, intuition, creativity, optimism and compassion. The urge to improve and transform our lives will receive a boost of inspiration and positive energy.
Usually the days right after a New Moon are a good time to begin something new, but be aware that things in general will be in flux this entire week, as you will see in the following paragraphs. With so much shifting, it will not the best time to lay a foundation for a new project. Go ahead and think about what you want to initiate, but wait until March 12-13 to launch any big projects.  
On March 1-2, Venus, planet of love, enjoyment and sociability will be actively challenging Mars, planet of action, war and passion. Mars will be very strong because it is turning retrograde on the day of the New Moon (discussed below). Venus has been in Capricorn since November 5, 2013. Many people have been re-evaluating relationships, finances, priorities and responsibilities over the past couple months. Venus is getting ready to change signs and it is time to bring this phase to a close. On March 1-2, intensity will build in relationships regarding sexual attraction, affection, partnerships, finances or possessions. Relationships and partnerships of all kinds could reach some sort of turning point on issues that have been undergoing a re-evaluation for the past four months. Relationships that are basically healthy and open could find this exciting and refreshing. Relationships that have underlying tensions may experience conflicts or disputes. These two days will be a time to clear the air and get on with it, whatever "it" may be.
Mars in Libra will go retrograde on March 1 (click here for more information) and will stay retrograde until May 19, 2014. During that 2½ month period, many people will focus their energy on the next phase of a project or idea that began in December 2013. Around the end of February and the beginning of March, we are likely to have realizations that prompt us to look at our previous plans and ideas with a fresh perspective. This will result in a realignment of our energies. Positively, our new insights can give us the energy and courage to break through blockages that have been holding us back from making desired changes in our lives.
The radical restructuring energies in the world will also be strongly affected. Mars likes to stir things up, get things started and take action – NOW. Mars will be actively poking a stick into the smoldering radical restructuring energies and adding oxygen (or gasoline) to the fire off and on over the next four months. The action will be at its peak in April.
On March 2, Saturn, planet of limits, responsibility and hard work will also turn retrograde. From then through July 21, we will find it necessary to clarify and focus on responsibilities and obligations. The next 4½ months will be a good time let go of the things in our lives that are no longer appropriate, whether they are situations past their expiration date, possessions, or our own attitudes and habits. Time to clean out the closet, literally and figuratively! It may take time, attention and patience, but it will pay off in the future. It will also help us use the radical restructuring energies much more effectively.
March 3 could bring an opportunity to make meaningful changes and reforms. On March 5, Venus, planet of relationships, love and money will leave the practical and responsible sign of Capricorn. It will move into the objective, friendly and humanitarian sign of Aquarius, where it will stay until April 5. The new, the unusual, progressive ideas, independence and equality will be popular themes during that four week period. On March 6, Jupiter, planet of optimism and expansion goes Direct (starts moving forward), bringing us the urge to move forward with improvements we have been considering since last November. On March 7-9, we will be looking realistically at what it will take to manifest these changes.
To summarize, March 1-9 will be a time of many realizations, shifts and changes.
March 10-16 ~ Tying Up Loose Ends and Moving On
This week will be a good time to clear up and complete projects and plans that have been hanging around for several weeks. March 10-11 could bring to light some misunderstandings or roadblocks that have been slowing things down. Use this opportunity to straighten out any communication problems. On March 12-15 we will feel like we have a clearer direction and will be ready to initiate our plans and projects.
The radical restructuring energies will be stimulated on March 14-16. This can bring breakthroughs in our individual lives. We may hear unsettling news regarding world events. Things will reach a climax as we approach the March 16 Full Moon in the practical and analytical sign of Virgo. Finding a way to balance dreams with reality is likely to be an issue. Some adjustments will need to be made.
March 17-23 ~ Spring Arrives!
There could be a deep inner rumbling all this week. It will be the vibration in the earth as the wheels of radical restructuring roll toward April.
Try doing something thing fun and different on March 18. It could reveal some inventive ways to bring about positive changes that will be liberating.
On March 20 the Sun enters Aries at the Spring Equinox. The stage is being set for April as the vitality and focus of the Sun moves closer to joining the radical restructuring energies.
Can you feel something stirring?
On March 21-22 there will be a spirit of hope and compassion. Our thinking will be more affected by our emotions than usual. However, we need to be aware that information and our perceptions may not be very clear at that time. Take what you hear with a grain of salt. Things are likely not what they seem. Instead of making important decisions during this two day period, go to a movie, do something imaginative or just take some time to relax.
March 24-31 ~ Here We Go
March 24 will bring an active start to the week. Get organized now. You'll be glad you did as the tempo is about to speed up. On March 25-28, we could have some inventive and intuitive ideas about ways to improve and transform our lives. On March 29 we are likely to be torn between being open-minded and adventurous versus being conservative and overly serious. Try to find a balance between the two.
The New Moon On March 30 will be in fiery, action-oriented, and assertive Aries This New Moon will light the torch at the radical restructuring gathering that will occur in April. Let the games begin! March 30-31 will be very active days as a major phase of transformation begins.
What do you want to transform in your life?
A thought before I go…..
Even though this forecast is all about future possibilities, the only time that anything ever happens is right now in the present moment. It can be helpful to have some awareness of the energies that are ahead, but it's important not to get so absorbed with the future that we miss the present.
What day is it?"
It's today," squeaked Piglet.
My favorite day," said Pooh."
A.A. Milne

The best thing about the future is that it comes only one day at a time.
Abraham Lincoln
Happy Spring and Thanks for Reading!
Judy Joyce
Pertinent Astrological Aspects
Times shown from March 1-8: Mountain Standard Time, from March 9-31: Mountain Daylight Time. Degrees have been rounded off.
Mar 1: New Moon, 12:59 am, 11º Pisces. Sun and Moon trine Jupiter, 11º Pisces/Cancer. Mars Retrograde, 9:24 am, 28º Libra.
Mar 2: Saturn Retrograde, 9:19 am, 23º Scorpio. Venus square Mars, 1:04 pm, 28 º Capricorn/Libra.
Mar 3: Sun sextile Pluto, 12:13 pm, 13º Pisces/Capricorn. Sun conjunct Chiron, 6:26 pm, 13º Pisces.
Mar 5: Venus enters Aquarius, 2:03 pm.
Mar 6; Jupiter Direct, 3:42 am, 10º Cancer.
Mar 7-9: Sun at 17º Pisces opposite Jupiter/Saturn midpoint at 17º Virgo. Sun at 17º Pisces Semisquare Saturn/Uranus midpoint at 2º Aquarius. Sun at 18º Pisces square Saturn/Pluto midpoint at 18º Sagittarius.
Mar 11: Mercury square Saturn, 12:14 am, 23º Aquarius/Scorpio.
Mar 13: Sun trine Saturn, 3:16 pm, 23º Pisces/Scorpio.
Mar 14: Mercury trine Mars. 10:17 am, 26º Aquarius/Libra.
Mar 15: Mercury conjunct Uranus/Pluto midpoint at 28 º Aquarius.
Mar 16: Full Moon, 11:08 am, 26º Virgo. Moon at 26º Virgo quincunx Mercury at 28º Aquarius. Sun at 26º Pisces quincunx Mars at 26º Libra.
Mar 17: Mercury enters Pisces, 4:24 pm.
Mar 18: Venus sextile Uranus, 1:00 pm, 12º Aquarius/Aries. Mars at 26º Libra opposite degree of Oct 18, 2013 lunar eclipse at 26º Aries.
Mar 20: Spring Equinox, 10:57 am, Sun enters Aries. Mars conjunct degree of Apr 15, 2014 lunar eclipse at 25º Libra.
Mar 21: Moon at 6º Sagittarius square Mercury and Neptune at 6º Pisces. (In effect from about 3 pm to 9 pm.) See Mar 22.
Mar 22: Mercury conjunct Neptune, 2:16 pm, 6º Pisces.
Mar 24: Moon at 11–13º Capricorn, opposite Jupiter at 11º Cancer, square Uranus at 12º Aries and conjunct Pluto at 13º Capricorn. (In effect from about 6 am to 3 pm.)
Mar 26: Mercury trine Jupiter, 7:11 am, 11º Pisces/Cancer.
Mar 28: Mercury conjunct Chiron, 10:09 pm, 15º Pisces.
Mar 29: Venus trine Mars, 1:05 pm, 23º Aquarius/Libra. Venus square Saturn, 23º Aquarius/Scorpio.
Mar 30: New Moon, 12:45 pm, 10º Aries. (Sun and Moon square Jupiter at 11º Cancer, conjunct Uranus at 12º Aries, square Pluto at 13º Capricorn.)
The pertinent astrological aspects for February are at the end of this Forecast.
FORECAST FOR FEBRUARY 2014 
February 1-8 ~ Hit the Pause Button
2014 is a breakthrough year. Things are moving. Big plans for action and change are on deck for many people over the next three months. The radical restructuring energies will be strong in February and March as they build to an action-packed climax in April. World events are likely to be shocking and surprising. In our individual lives we may find this influence to be unsettling and unexpected, or liberating and exciting, or all of the above!
We may be inspired and impatient to take action on Feb 3. However, before we rush out and initiate major changes, it will be wise to do some careful thinking and tweak our plans a bit (or a lot) during February.
Mercury, the planet ruling communication, transportation, thinking and perceptions, will be retrograde from February 6 to 28. The heavens are telling us that it is time to pause, clear up, clean up, revise, reorganize and reconsider. Focus on refining and improving current plans and projects during this period. It will be well worth the effort. To learn more about the meaning of Mercury Retrograde, see: Mercury Retrograde
On Feb 7 there will be a strong tendency for unrealistic thinking, daydreaming, forgetfulness or miscommunications. Avoid making important decisions that day and make sure all communications are clear. Do something creative and imaginative or take that day off for some rest and relaxation. 
February 9-15 ~ Wake-Up Call
February 14 (Valentine's Day) Full Moon, 4:53 pm MST, 26º Leo -
Whatever needs to reorganized or revised is likely to come to our attention over this seven day period. The astrological patterns show a strong possibility for challenging or unsettling events in the world. The Full Moon in Leo on Feb 14 also suggests a major release of radical restructuring energy could erupt sometime this week. If so, it will have an eye-opening effect for many people. Startling revelations or even revolutions could occur.
In our individual lives, the energies this week are more likely to manifest as major insights and realizations. This can energize and motivate us to take positive action to bring about needed change and transformation in our personal lives.
The Full Moon on Friday, Feb 14, falls on Valentine's Day and will activate both the radical restructuring energies and Mercury retrograde over the weekend. Something unexpected could cause us to see things from a new point of view, resulting in an exciting, surprising and transformational experience.
February 16-22 ~ Focusing
On Feb 16, we could be enthusiastic about proceeding with a previous idea or a project that originated in January. However, on Feb 18, we will realize more work and attention is needed before we can move forward. Don't be discouraged. Keep focusing on your goal. Think of this as a work week and do what needs to be done. Improvements made now will pay off in the future. Don't take shortcuts. If we avoid taking the time to do things right now, we will have to face the consequences in mid-March. 
Feb 23-28 ~ Openings
The urge to expand our horizons and the confidence to do so will be strong as February comes to a close. We are likely to feel more optimistic and ready to take a chance during the last six days of February.
Mercury will go direct on Feb 28. Our revising and reorganizing time will be drawing to a close. However, there will still be a possibility of communication mix-ups this entire week and the first few days of March. Don't take anything for granted.
Feb 28 brings happy and positive astrological influences. The New Moon in the sensitive and creative sign of Pisces occurs on at midnight on Feb 28 for those in the Pacific Time zone and in the wee hours of Mar 1 for the rest of the USA time zones. After a month of work and focus, this New Moon will usher in fresh energy for the next step in our journey. More about that next time! 
Thanks for Reading!
Judy Joyce
You have brains in your head.
You have feet in your shoes.
You can steer yourself in any direction you choose.
You're on your own.
And you know what you know.
You are the guy who'll decide where to go.
- Dr. Seuss
See more articles on astrology
Pertinent Astrological Aspects (Times are shown for Mountain Standard Time Zone, degrees have been rounded off)
Feb 3: Moon in Aries conjunct Uranus in Aries, square Jupiter in Cancer, square Pluto in Capricorn, square Venus in Capricorn.
Feb 6: Mercury Retrograde, 2:43 pm, 3º Pisces.
Feb 7: Moon in Gemini square Mercury and Neptune in Pisces.
Feb 9: Mars conjunct degree of Apr 15, 2014 Lunar Eclipse at 25º Libra.
Feb 11: Sun square Saturn, 23º Aquarius/Scorpio. Jupiter at 11º Cancer Sesquisquare Uranus/Pluto midpoint at 26º Aquarius. Mars at 26 º Libra opposite degree of Oct 18, 2013 Lunar Eclipse at 26º Aries.
Feb 14-15: Full Moon, 4:53 pm, 26º Leo. Moon at 26º Leo opposite Uranus/Pluto midpoint, 26º Aquarius. Sun conjunct Uranus/Pluto midpoint at 26º Aquarius.
Feb 15: Mercury Rx conjunct Uranus/Pluto midpoint at 26º Aquarius.
Feb 16: Mercury Rx trine Mars, 26 Aquarius/Libra.
Feb 18: Mercury Rx square Saturn, 23º Aquarius/Scorpio.
Feb 20: Pluto conjunct Sun/Saturn midpoint at 13º Capricorn.
Feb 23: Sun conjunct Neptune, 5º Pisces.
Feb 24: Venus sextile Saturn, 23º Capricorn/Scorpio.
Feb 25: Jupiter square Uranus, 11º Cancer/Aries. Moon in Capricorn square Uranus, opposite Jupiter, conjunct Pluto, sextile Saturn and conjunct Venus.
Feb 28: Mercury Direct at 18º Aquarius. Sun trine Jupiter, 11º Pisces/Cancer.
Mar 1: New Moon, 12:59 am at 11º Pisces. Moon trine Jupiter, 11º Pisces/Cancer.
 
Also see: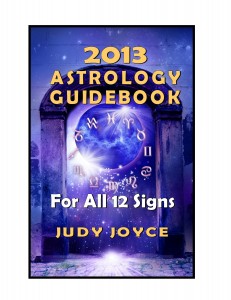 2013 ASTROLOGY
GUIDEBOOK
for All 12 Signs 
The 2013 Astrology Guidebook is for all twelve signs. No need to buy a separate book for each Sign. You can read the forecast for your Sun sign, for your Ascendant sign and for friends and family all in one book.  This big book has a separate section for each sign that has an overview for 2013 and a month by month forecast. Also includes a 2013 World Overview, instructions for New Moon and Birthday Ceremonies, information on Mercury Retrograde and more. Available at Amazon.com
Trade paperback, 6×9″, 365 pages. $16.99. ORDER NOW
E-book, $8.99. ORDER KINDLE     Also available in other EBook formats.  
Get a Personal Forecast Report based on your individual birth chart